Contest Update:
The winner of Susanna Fraser's The Infamous Marriage is Janie!  You will receive an email soon!  Thanks to everyone who commented on Susanna's interview.
Scheduling Update:
With the holidays fast approaching, I will be spending time with my family, so next week will be a little light.  I will be running some giveaways, so please drop in and enter for your chance to win some free reads!
Reading Challenge Update: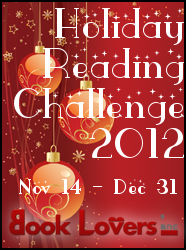 Book Lovers, Inc is again hosting their Holiday Reading Challenge.  I've signed up, though I don't have a specific reading goal in mind.  If you enjoy holiday themed reads, here's a good excuse to over indulge!  Sign up if you have time!