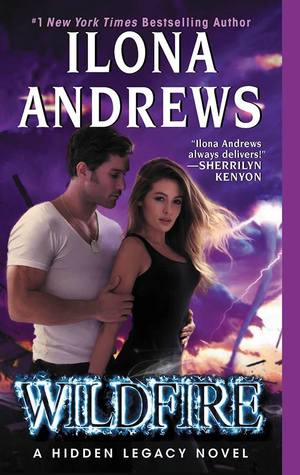 May contain spoilers
I love this series! Please say there will be more! While I have recently started Ilona Andrews' Kate Daniels books, and I enjoy them immensely, there is something about the Hidden Legacy series that makes it stand a tier above Kate (Poo Penny will disagree, but she's read ALL of Kate, and I've only listened to the first two audio books). Oh, wait! That something is Mad Rogan. He's all that, and he's only endeared himself to me more as the series continued. And the world building is fascinating. I love the idea of insanely powerful people, gifted with magical abilities, fighting for dominance over the other magical families.
Rogan's ex, Rynda, shows up on Nevada's doorstep. Her husband never came home from work, and she's sure foul play is at play. And sure enough, it is! Nevada is soon up against the very people who manipulated the events in the previous novels. She frantically races find Rynda's husband before his kidnappers kill or maim him. Oh, and she's fighting to save Houston from falling into the hands of a powerful group of people who want to rule it for their own benefit. And her crazy scary grandmother is in town, and she is determined to drag Nevada home with her so her House doesn't end with her.
I loved this book. Nevada really came into her own. As she struggles to establish her own House, against her mother's wishes, she must form allegiances with other Houses. She must prove that she's a Prime, and that she can protect herself and her family. Finally discovering Catalina's power, during yet another attempt to save thousands of innocent lives from the machinations of the bad guys, was so much fun. I never would have guessed!
If you enjoyed the previous books, it's a given that you will enjoy Wildfire as well. The characters are once again brought vividly to life. There is a ton of action, humor, and even some sexy times. Please tell me there will be more adventures for Nevada and Rogan. Not all of the plot threads were tied up, and gosh darn it, I want to spend more time with them and Nevada's awesomely powerful family.
Grade: 4.75 stars
Review copy provided by publisher
About the book
Just when Nevada Baylor has finally come to accept the depths of her magical powers, she also realizes she's fallen in love. Connor "Mad" Rogan is in many ways her equal when it comes to magic, but she's completely out of her elements when it comes to her feelings for him. To make matters more complicated, an old flame comes back into Rogan's life…
Rogan knows there's nothing between him and his ex-fiance, Rynda Sherwood. But as Nevada begins to learn more about her past, her power, and her potential future, he knows she will be faced with choices she never dreamed of and the promise of a life spent without him.
As Nevada and Rogan race to discover the whereabouts of Rynda's kidnapped husband and are forced to confront Nevada's grandmother, who may or may not have evil motives, these two people must decide if they can trust in each other or allow everything to go up in smoke.