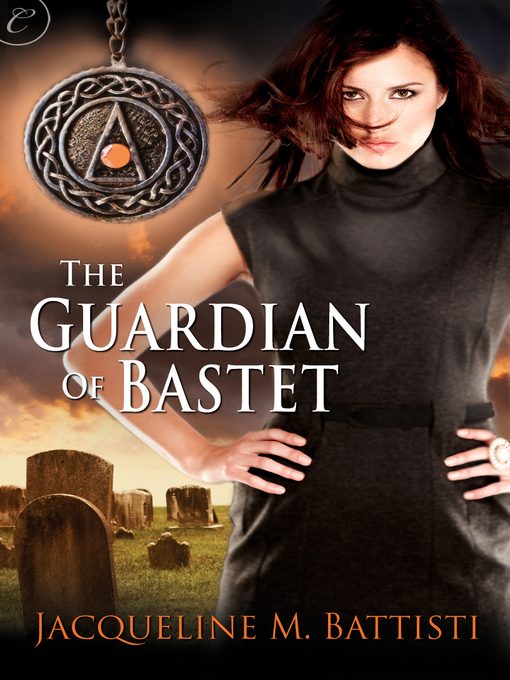 Jacqueline Battisti is the author of The Guardian of Bastet, a new urban fantasy release from Carina Press.  Jacqueline dropped by the virtual offices to introduce herself and to chat about her book.
[Manga Maniac Cafe] Describe yourself in 140 characters or less.
[Jacqueline Battisti ] I have two children who are very outgoing and keep me on my toes. In between all their activities, I try to write urban fantasy novels, work on marketing and read.
[Manga Maniac Cafe] Can you tell us a little about The Guardian of Bastet?
[Jacqueline Battisti ] The Guardian of Bastet is about Trinity Morrigan-Caine. An independent woman, successful veterinarian and monthly housekitty who is faced with a life that becomes more complicated when events spiral out of control around her and then destiny throws her in the middle of it. She isn't perfect, she isn't experienced, but she is determined.
[Manga Maniac Cafe] How did you come up with the concept and the characters for the story?
[Jacqueline Battisti ] By watching my cat and wondering what it would be like to be her for a day? What problems would that entail? Then I started envisioning where someone like me would work, etc. and the character was born. I then researched different urban legends from Rochester, NY and found the stories of Mount Hope Municipal cemetery, news reports of demon summoning, and rituals performed within the Devil's bowl, and I took those stories and rolled with it.
[Manga Maniac Cafe] What three words best describe Trinity?
[Jacqueline Battisti ] Snarky, Determined, loyal
[Manga Maniac Cafe] What are three things Gordon would never have in his bedroom?
[Jacqueline Battisti ] Gordon would never have a Teddy Bear, anything pink, or a television. He prefers other activities in the bedroom. *wink.
[Manga Maniac Cafe] If Trinity had a theme song, what would it be?
[Jacqueline Battisti ] Tough choice. Either The Warrior by Scandal or Ev'rybody Wants to Be a Cat from the Aristocats.
[Manga Maniac Cafe] What are your greatest creative influences?
[Jacqueline Battisti ] (1) My husband, (2) Different scenic locations around my home in Rush. (One of Rochester's suburbs). (3) Watching family drama around the holiday season and then some. Some of Trinity's family dynamics come from years of family get togethers.
[Manga Maniac Cafe] What three things do you need in order to write?
[Jacqueline Battisti ] My laptop, my posterboards, and no interruptions.
[Manga Maniac Cafe] What is the last book that you read that knocked your socks off?
[Jacqueline Battisti ] Thirteen by Kelley Armstrong. She ended the Otherworld series with a bang. I love it and have since the very first book.
[Manga Maniac Cafe] If you had to pick one book that turned you on to reading, which would it be?
[Jacqueline Battisti ] The Lion, the Witch and the Wardrobe by C.S. Lewis. (I was a BIG reader growing up.)
[Manga Maniac Cafe] What do you like to do when you aren't writing?
[Jacqueline Battisti ] I still LOVE to read. Big fan of Ilonya Andrews, Patricia Briggs, Kelley Armstrong, Laurel K. Hamilton, and many more. I am also a multitasker. I like to read while eating chocolate and drinking coffee. 🙂
[Manga Maniac Cafe] How can readers connect with you?
[Jacqueline Battisti ] I am on Facebook, Twitter@jmbattisti, Goodreads, & LinkedIn. I have an email off my website: www.jacquelinebattisti.com and I try to attend RT Booklovers Convention when finances allow 🙂 It's a GREAT time!
[Manga Maniac Cafe] Thank you!
You can purchase The Guardian of Bastet from your favorite bookseller, or by clicking the widget below
About the book:
Cat-shifter Trinity Morrigan-Caine has discovered a demon is killing supernaturals. Magically challenged, she has every intention of letting handsome Alpha werewolf Gordon Barnes handle it. But after a dying vampire gifts Trinity a mystical amulet, she is drawn into the fray as the legendary Guardian of Bastet, a warrior born when the need arises.
Though Trinity initially rejects the role, she warms to the idea when Gordon agrees to train her—and their passion for each other grows as he teaches her to embrace her animal instincts.
As she begins to accept her destiny and believe in her growing powers, Trinity realizes the danger is even closer to home than she ever imagined—and she and Gordon are going to have to face the demon in a fight to the death…
Author Bio:                         
Jacqueline Battisti was raised in Little Falls, New York where she met and married her high school sweetheart. They have two children and live near Rochester, New York where she is a stay at home mom and writer of the paranormal and urban fantasy of her vivid imagination.
Her first novel, The Guardian of Bastet, is being published by Carina Press August 20, 2012. She is currently working on a sequel as well as a dystopian paranormal.
Her life has taken her from the trials and tribulations of working as an administrative assistant at various companies, back to college as an adult student, and then into the adventurous world of motherhood.
Jacqueline began writing seriously in 2007 after attempting NaNoWriMo for the first time. It was the first time she had disciplined herself to finish a novel. From there, her supportive critique group was formed and attended, and then she attended RT Booklovers Convention in 2009. Jacqueline attended their aspiring authors workshops and met with many talented writers who inspired her to continue writing.
Flash forward to today: Jacqueline has two children who are very outgoing and keep her on her toes. Cub Scouts, Daisy Scouts, play dates, school activities for the kids…then writing, reading current authors, following blogs, facebook, household chores, gardening and exhaustion for mom. Add in a new puppy, two furry feline children and fish and you have the craziness that is the Battisti household.
https://www.facebook.com/jacquelinebattisti.author
Twitter:@jmbattisti
Goodreads: http://www.goodreads.com/jacquelinebattisti