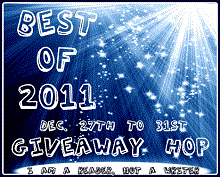 Here's another chance to win a free book!  I am a Reader, Not a Writer is hosting the Best of 2011 Hop December 27 – December 31.   There will be a ton of chances for you to win some new reading material for the long winter.  Just hop on over to I am a Reader, Not a Writer to see the other giveaways!  Click here to see the list of participating blogs.
One of my favorite reads this year was Nowhere Girl by AJ Paquette.  I loved this book, and found the young protagonist very unique and likeable.  I would like to share the love by giving a copy of this book to another reader.
To enter, fill out the form below.  Since Google is making life difficult for blogs not hosted on Blogger, and they will soon be discontinuing Google Friend Connect for us, I am changing things up a bit.  The only requirement for entering is to subscribe to my newsletter.  Feedburner will deliver an email with blog updates right to your email box! 
Subscribe to Manga Maniac Cafe by Email
This is an easy contest to enter! Just subscribe to the newsletter and fill in the form for your chance to win! Open Internationally!
Contest Rules –
You must be 13 or older to enter.
I am not responsible for lost or damaged shipments.
One entry per person.
You must be a follower and a newsletter subscriber to enter.
Contest ends December 31