Waiting On Wednesday is a weekly event, hosted by Jill at Breaking the Spine, that spotlights upcoming releases that we're eagerly anticipating.
All I want for Christmas is a cowboy!! Here are some upcoming Christmas romances featuring cowboys!
My first pick is Her Cowboy's Christmas Wish by Cathy McDavid.  I can't find a synopsis, but I am assuming that it this is the next book in the Powell ranch series.  Honestly, it doesn't matter what it's about – Cathy McDavid is an autobuy for me now.  This will be in stores in December.
Who doesn't want a rugged ranger for Christmas?  A Texas Ranger's Christmas by Rebecca Winters will be in stores in November.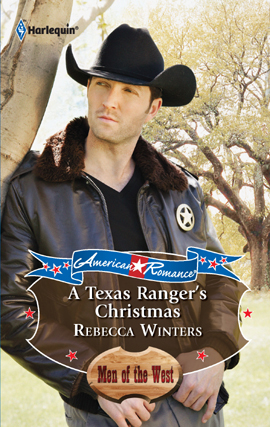 Life can get complicated for a single father working undercover. No one knows that better than Caige Dawson, currently posing as an employee of the Texas Forest Service. He's there to investigate a fellow forester with a missing husband, and to determine whether she's a suspect.
Five years ago, Blaire Farley's world imploded. But ever since she met Caige and his sweet, lovable eight-year-old son—the survivor of a tragic accident—she's ready to start reclaiming her life. And the first order of business is giving Josh the best Christmas any little boy ever had.
Blaire may be a person of interest, but Caige believes in her innocence. His code of honor prevents him from getting too close until he can come clean about his identity. But he needs Blaire's help to solve the case. He only hopes it will give her the closure she needs—and the future all three of them deserve.
All I want for Christmas is another horse, but I'll take a cowboy if he has a herd of ponies!  Then, I, too, would be all smiles, just like the heroine on this cover!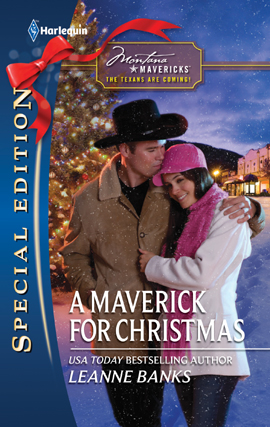 THUNDER CANYON NUGGET
HOT OFF THE PRESSES:
Thunder Canyon's Most Upstanding Citizen Has Finally Found His Ms. Right…And She Isn't Letting Him Get Away!
The rumors have been confirmed: Abigail Cates is wildly in love with Hollis "Cade" Pritchett. But the honorable second Pritchett brother barely knows she exists. Until the youngest Cates daughter makes up her mind to get her man. Now the gossip mills are churning overtime as the town's tweeters try to out-scoop each other on this blossoming romance!
Maybe it's the wedding fever running through Thunder Canyon. Or maybe the town's most eligible bachelor is finally realizing that Ms. Right has been here all along. Could a marriage proposal be next? Stay tuned, dear readers, to find out if Cade will get up the courage to pop the question…just in time to throw the biggest Christmas wedding the Montana town has ever seen!
Cuddling in front of a beautifully decorated tree with a handsome cowboy is the ticket to a Merry Christmas!!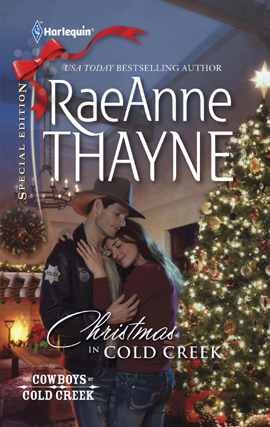 A SEXY SHERIFF FOR CHRISTMAS
She claimed to be a waitress and a single mother, but Rebecca Parsons doesn't look like any hash-slinger Pine Gulch Police Chief Trace Bowman has ever seen. And she doesn't seem particularly maternal toward her little girl, either. Still, one look in her vulnerable green eyes and his protective instincts go into overdrive.
Attention from local law enforcement is the last thing Becca needs. She'll do anything to protect her little sister Gabi from their con-artist mother, even lie about their identities. When Trace shows up at their house carrying a Christmas tree and stirring desires she can't afford to indulge, she longs to surrender to the magic of the season with him. But Becca's past is catching up—fast. Can her sexy police chief perform a Christmas miracle?
THE COWBOYS OF COLD CREEK
Love on the ranch!
Thank you, Harlequin, for filling up my cowboy wish list!
What are you waiting on?  Leave links and share!