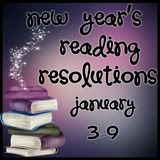 Sorry this post is up late – I messed up the scheduling for it!  Anyway, thanks to Candace, Angel, and Lori, you can win some book swag with their New Year's Reading Resolutions Giveaway hop!  To enter the other awesome giveaways, check out the other participating blogs at the bottom of this post.
Over the holiday weekend, I read The Witchy Worries of Abbie Adams by Rhonda Hayter, and I loved it!  I want to share this fun MG read, so I decided to give a copy away for the contest. 
The rules are simple – Just fill out the form for your chance to win the book!  You must be a follower of the blog, and you must be at least 13 to enter.  Contest ends January 9th, and is for US and Canadian residents only.