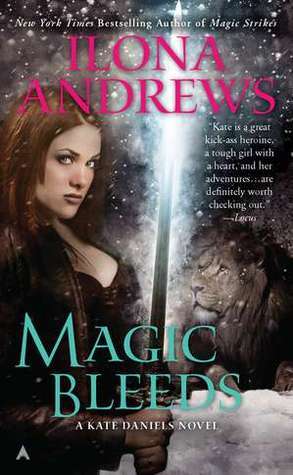 May Contain Spoilers
Kate Daniels has a really scary family. Her father is thousands of years old, and he kills without a thought. Her step-father taught her how to fight and how to survive against the monsters that would be unleashed against her, should her existence be discovered. And in Magic Bleeds, Kate has a not so touching introduction to her Auntie Erra, a terrifying warrior whose closest companions are pestilence and death.
The action is fairly non stop, and once again, Curran makes a belated appearance. After standing Kate up for their naked dinner, I think she had every reason to be pissed with him. When he tries to make amends, she refuses to speak to him. Kate is such a hardhead, and she makes life more difficult for herself because she is so stubborn. Once she thinks she knows something, that's it. It takes moving heaven and hell to change her mind, and poor Curran took the brunt of her displeasure. After they sort things out somewhat, Curran achieves sweet revenge against Kate's display of outrage, and I could not stop laughing. I like that Kate is so afraid to be part of a family because disaster follows in her footsteps, that she sabotages her own happiness. Good thing Curran isn't having any of that nonsense.
Despite her best efforts, Kate keeps picking up strays. This time, it's a poodle (bwahaha) she names Grendel. I admit that I worried about Grendel the entire novel, and I don't think it's a spoiler to tell you that both Kate and Grendel survived their battles to live to fight another day. Thank you Ilona and Andrew for not killing the dog.
I love this series and am looking forward to book 5.
Grade: 4.5 stars
Review copy borrowed from my local library
About the book:
Kate Daniels cleans up the paranormal problems no one else wants to deal with-especially if they involve Atlanta's shapeshifting community.
And now there's a new player in town-a foe that may be too much for even Kate and Curran, the Lord of the Beasts, to handle. Because this time, Kate will be taking on family.