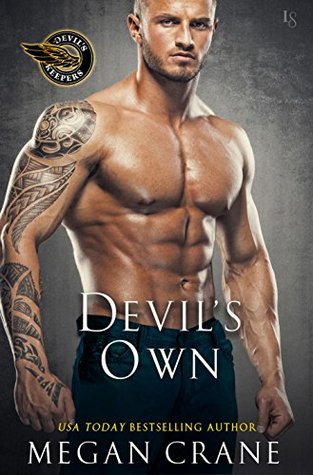 May Contain Spoilers
Review by Poo Penny
OMG. I cant even help myself. These are such guilty pleasures at this point. I have tried to tell myself I don't like them, and maybe I didn't at some point. But you know what, I do now. Or at least, this one was great. Angst, sex, a little story, and best of all, it took me out of reality for a few hours. Working 12 hour days really gets to a person after a while.
So, Lara is a school teacher, and she is worried about Chaser's daughter, Kaylee. She is showing up to class drunk, acting up, and Lara wants to have a discussion with Chaser about it. Well… He has something to say about that, with other parts of his body. ::fans myself:: I don't know what it is about desk scenes, but they are a weakness. And damn you, Megan Crane, I really did not even want to like this book. Chaser is a jerk, Lara is not my ideal heroine, but sometimes we just need that blissful break from reality. This was it for me. I would definitely suggest this book, even if you haven't read the other books in this series. The overall story will be good, even if the biker drama will go over your head.
Grade: 4 stars
Review copy provided by publisher
About the book
From the bestselling author of Devil's Honor and Devil's Mark, this seductive novel of the Louisiana bayou kicks into high gear as a dangerously sexy biker takes a no-nonsense teacher on the ultimate thrill ride.
Lara Ashburn hates bikers. She watched a motorcycle club destroy her hometown, bringing her brother down with it. That's a life she put far in her rearview. So the last person she wants to see walking into her classroom is the top enforcer of the Devil's Keepers. Big, mean, and gorgeous, all tattoos and leather, Chaser is everything Lara should avoid. Yet the insane chemistry sparking between them tempts her to break all the rules.
Ryan "Chaser" Frey has his hands full with a teen daughter in need of tough love, and he doesn't have time for prissy teachers who want to tell him how to raise his kid. But Chaser never could resist a chick who gives as good as she gets. Lara is sexy as hell, and she's not afraid of him. Plus, her links to a California club could provide the Devils with leverage against their enemies. But that would mean mixing business with pleasure—and risking the one woman Chaser can't afford to lose.