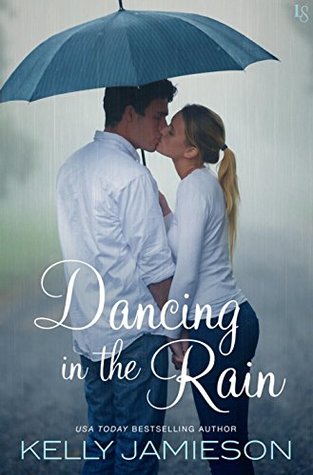 May Contain Spoilers
I haven't been reading many Loveswept romances because they publish so many that are New Adult, and it takes a special NA to keep me engaged. I thought that Dancing in the Rain was NA, so I skimmed over it when I first saw it. Then I read some good reviews, I'm a sucker for a good hockey hero, and I decided to give it a go. I am so glad I did, because it is easily one of my favorite contemporary romances so far this year.
Hero Drew has been forced to retire from hockey because of an injury. He isn't dealing with his forced retirement well, and spends most of his nights bar hopping, bar brawling, or hooking up with one night stands. Then, out of the blue, he discovers that he has twelve year old daughter. Skeptical at first, because he can't even remember sleeping with the woman making these outrageous claims, he takes a DNA test and must accept that, yes, he is indeed a dad. Now he has to decide whether or not to try to get involved in his daughter's life. And, oh, yeah, his daughter's mother, Sara, has terminal cancer and isn't expected to live much longer.
God, this book really hit some raw emotions for me. The hospice scenes hit way too close for comfort, as I am still grappling, over a year later, to accept my mom's death. Peyton, Sara's sister and the heroine of the book, tries to deal with a gamut of emotions, all while putting on a brave face for both her sister and her niece Chloe. She doesn't have much patience for Drew, who is just drifting aimlessly through life now that his hockey days are over. Some people have worse things to deal with, and she just can't deal with his self-pity.
I think that first and foremost, Dancing in the Rain is about loss, grief, and accepting things that can't be changed. It's also about the realization that life is short. Sometimes painfully so. While dealing with her grief, Payton must also prioritize her own life. That fancy job in New York? Maybe it's not really going to make her happy in the long run. Her boss is certainly a heartless turd, and maybe she can find something else that's mentally stimulating, but will allow her to keep Chloe's needs in the forefront, too. And Drew? Maybe instead of a private pity party, he needs to make a change in his expectations for life, and take a chance on making a solid commitment to both himself and to Payton.
The story seemed just a tad too drawn out, but overall, I thoroughly enjoyed Dancing in the Rain. I will have to give the Loveswept backlist another look
Grade: 4.5 stars
Review copy provided by publisher
About the book
A retired athlete meets the daughter he never knew—along with the woman who reignites his passions—in this powerful standalone romance from the bestselling author of Hot Shot and the Heller Brothers series.
Drew Sellers is drowning in broken dreams and empty beer bottles. Hockey was his world, until a bum knee reduced him from superstar to has-been. Then he learns that, thanks to a one-night-stand back in college, he's the father of a preteen girl with major issues. Her protective aunt sees right through Drew's BS, but "Auntie P" is no stereotypical spinster. With her slender curves, toned legs, and luscious lips, she has Drew indulging in fantasies that aren't exactly family-friendly.
At another point in her life, Peyton Watt would have been all over a cocky alpha male who pushes all her buttons like Drew. Right now, though, she needs to focus on taking care of her niece during her sister's health crisis, all while holding down a job and keeping her own head above water. Besides, Drew's clearly no father of the year. He's unemployed. He drinks too much. And he's living in the past. But after Peyton gets a glimpse of the genuine man behind his tough-guy façade, she's hooked—and there's no going back.