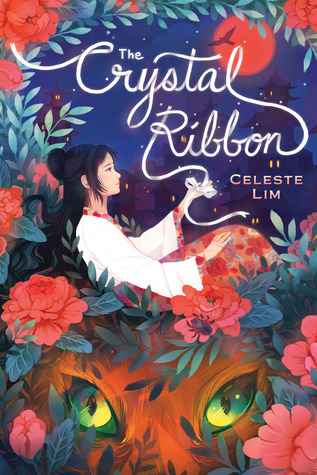 May Contain Spoilers
Review by Poo Penny
Jing is first sold at 11 years old, at the insistence of her Aunt Mei, who I came to despise. She is sold as a bride-to-be to the Guo family for their 3 year old son, and it turns out he is quite nice to her, but everyone else in that family is horrible to her. One night during a ghost festival she learns that she can see and speak to jing, which are spirits that can be in animal or bug form, or… apparently any form in this book, later there is a tree form. I guess it is more accurate to say they reveal themselves to her, since her sister in law apparently heard one of the jing and freaked out. She endures most of her time there stoically, but when her sister in law accuses her of stealing, she is basically tortured. It was horrible, ugh!
Then she is sold again, poor girl, and this time she is 13. She is sold to a courtesan house. I felt really bad for her by now, tortured, separated from everyone she has come to love again, and she calls upon a jing for help, and escapes! She meets a jing from her previous household, and together they meet another traveler, and they end up saving a village and then Jing finds her way home. She does not get the happy welcome she wants, and her Aunt Mei is terrible. I am so glad I do not have to deal with this kind of shit.
I liked this book, however it is aimed towards a younger audience and I could definitely tell. There were a few times where the word lass was used instead of girl, and that was just odd to me, since it is based in medieval China, and the thrown in Chinese words were hard to keep straight, so sometimes I had to pause to remember what a word was. I can't imagine as a 5th grader this being a particularly easy read.
Grade: 3.5 stars
Review copy provided by publisher
About the book:
In the village of Huanan, in medieval China, the deity that rules is the Great Huli Jing. Though twelve-year-old Li Jing's name is a different character entirely from the Huli Jing, the sound is close enough to provide constant teasing-but maybe is also a source of greater destiny and power. Jing's life isn't easy. Her father is a poor tea farmer, and her family has come to the conclusion that in order for everyone to survive, Jing must be sacrificed for the common good. She is sold as a bride to the Koh family, where she will be the wife and nursemaid to their three-year-old son, Ju'nan. It's not fair, and Jing feels this bitterly, especially when she is treated poorly by the Koh's, and sold yet again into a worse situation that leads Jing to believe her only option is to run away, and find home again. With the help of a spider who weaves Jing a means to escape, and a nightingale who helps her find her way, Jing embarks on a quest back to Huanan–and to herself.