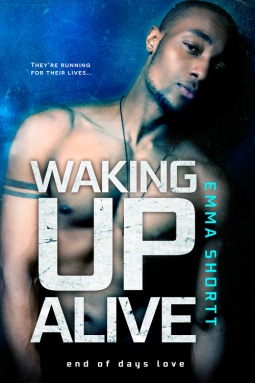 Contains Spoilers!
Polly Parker has things good in deadly chaos after the zombie apocalypse. She's snug as a bug in a secure building in Chicago, just waiting for the wakers to die. She occasionally ventures outside to give herself something to do, and when the mathematician runs into Tye LeBow, she turns her cushy life on end. Letting Tye into her home, and her life, is a huge risk for Polly, one that she's very careful about making. The last time she tried to help someone, she was viciously assaulted, proving that the zombies aren't the only monsters prowling the streets.
Tye is just looking for his partner, Jackson (you can read about her adventures in Waking Up Dead – highly recommended!) when he runs into Polly and almost gets himself blown to bits in the process. The two form an uneasy alliance after escaping from a mob of zombies. Impressed by Polly's bravery, as well as how she's been able to hide for the past two years, he is still apprehensive that her luck won't hold out forever. When her safe haven is overrun, the two head south to the refuge camp in Laredo, dodging danger and death every step of the way.
I really liked Polly. She's a nerd, but she's a bomb-making, sharp-shooter kind of a nerd. She has believable fears about being eaten by zombies, but when it comes time to save someone, she's there with her gun and her grit. She was a nice match for Tye, but I thought he was just a little too good to be true. He's ruthless with his ax, but he's kind, gentle, and possesses a positive attitude that I would be hard pressed to match in the middle of a zombie apocalypse.
I really enjoyed this up until the point Polly was bitten, and then it didn't hold my attention as well. The secondary characters weren't appealing either. Seb's character was inconsistent, and I didn't buy into his mistake that allowed the zombies to escape from his lab. Jackson just grated here, while I loved her in Waking Up Dead, and Luke was completely under-utilized here. He was pretty much just Jackson's arm candy, which was disappointing.
The action up to Tye and Polly reaching Laredo was blistering, and what I enjoy best about zombie books. They were constantly on the run, dodging from evermore cunning monsters that want nothing more than to eat them. Their flight from Chicago is tense and nerve-wracking, and kept me turning the pages.
Then they get to Laredo and everything came to a screeching halt. If you are more interested in the possible recovery from a devastating zombie virus, than this will be right up your alley. Seb, a scientist, believes he finally has the key to manufacturing a cure for the plague that has brought a bloody and violent end to the world. I found the lab time tedious and wasn't as engaged in that aspect of the story.
Grade: B-
Review copy provided by publisher
About the book:
After surviving the zombie apocalypse for two years, Tye LeBow never expected to be saved from a hungry gang of zombies by a geek with a bad attitude and a penchant for explosives. Tye can't quite work out why scientist Polly Parker saved him. She doesn't want his protection, and she certainly doesn't want his company. But Tye has no intention of leaving the beguiling geek behind.
Polly doesn't want to leave her home, but when the wakers begin to show signs of a burgeoning intelligence, heading south is the only option. With a car packed full of homemade explosives, and Tye's very large axe, they are ready for the road trip of their lives.
Bombs and blades aren't the only keys to survival–they'll need to rely on each other, in a way that neither could have imagined…