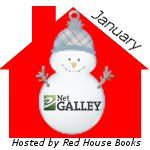 Red House Books is once again hosting a Netgalley month.  If there is one thing that all book bloggers have in common, it's being behind on reading and reviewing review books.  I find it is especially difficult to stay ahead of eARCs, and that once they get loaded on my Kindle, they tend to get lost among all of the other books already stored there.  This has been made even more challenging since I acquired my Kindle Fire – there are still so many books on my other Kindle, and moving them to the Fire is a bit of a pain. 
In order to help myself tackle more review copies, both print and digital, I am signing up for Netgalley January, and also highlighting some review books I have on tap for January.  If I give myself a goal, I won't feel so overwhelmed by my TBR mountain (at least I hope!). 
I hope to read and review 8 Netgalley titles (To be determined).  I also hope to read and review the following review books:
Can I do it?  I hope so!  What are your reading goals for January?